COPR Awards of Excellence
The Canadian Organization of Paramedic Regulators (COPR) is please to announce the recipients of the 2020 Award of Excellence. The award is presented to the candidates that received the highest score on the respective Advanced Care Paramedic (ACP) and Primary Care Paramedic (PCP) Entry to Practice Examinations.
British Columbia,  Alberta, Saskatchewan, Manitoba, Nova Scotia, Prince Edward Island and Newfoundland and Labrador have all adopted the COPR Entry to Practice Examination as their entry to practices examination. In 2020 there were 1261 candidates (222 ACP and 1031 PCP) from across these provinces that wrote the COPR Entry to Practice Examinations.
Kaden Arnason- Recipient of COPR's PCP Award of Excellence for 2020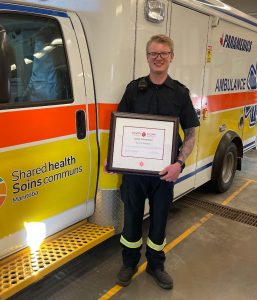 Kaden grew up just north of Winnipeg, in Clandeboye, where he has been an active member of both the Clandeboye Fire Department for 6 years, and the Clandeboye Medical First Responder (MFR) program over the past 2.5 years. Kaden attended the University of Winnipeg from 2013-2017 and graduated with a BSc. majoring in biochemistry, while taking his Emergency Medical Responder (EMR). Having the opportunity to work alongside EMS, and local members of the fire department and MFR in Clandeboye, Kaden knew that he wanted to be in the field of EMS. He pursued Primary Care Paramedic (PCP) through CritiCare in Winnipeg in 2019 where he graduated atop his class. Since graduating, Kaden has been working in Mafeking and Swan River full time and is proud to work alongside the many great people he has met. Kaden would like to extend thanks to everyone who has been there for him during his journey. From the members of the Clandeboye Fire Department and Clandeboye MFR for the opportunity to serve his community, his friends and classmates for their ongoing support, the instructors and staff from CritiCare, his Mom, Dad and sisters for their support and motivation, and lastly the colleagues and friends including both Eytan and Devin from Parkland Station 5.
Michael Turconi- Recipient of COPR's ACP Award of Excellence for 2020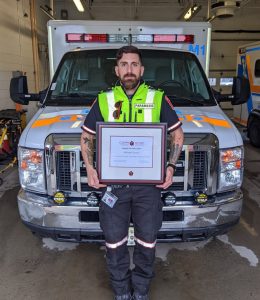 Michael Turconi grew up in the outskirts of Milan, Italy. He completed high school in a military boarding institution. Michael joined the Army with the objective of becoming a Special Forces soldier. He volunteered for Special Forces selection in 2012 and fulfilled a lifelong passion for medicine by specializing as a NATO Special Operations Combat Medic (NSOCM). He deployed three times to Iraq as the senior medic for Special Forces Operational Detachment 51 of the 9th Regiment "Col Moschin". Michael was recognized as the International Medic of the Year 2017 by the Special Operations Medical Association (Charlotte, USA) and awarded a Silver Cross for Merit by the Italian Army.
Michael immigrated to Canada in 2018 and pursued paramedic equivalency in Newfoundland receiving his PCP designation in 2019. In October 2020 Michael joined Eastern Health Paramedicine and Medical Transport (PMT) in St. John's where he currently works as an ACP.
Michael is a Board Certified Flight and Tactical Paramedic (FP-C, TP-C), a Tactical Combat Casualty Care instructor and holds a Bachelor of Science in Paramedic Studies with First Class Honours obtained at University College Cork (UCC), Ireland. Michael has published multiple peer reviewed papers and contributed to the US Department of Defence Joint Trauma System Clinical Practice Guidelines on sepsis management in the field. He has also participated as a speaker and lecturer at conferences in USA, Italy, Ireland, Germany and Australia.
Parallel to paramedic practice, Michael collaborates with numerous private and government organizations as a consultant in military and tactical medicine. He also collaborates as an instructor for the online platform Master Your Medics.
Michael would like to thank his family in Italy and his partner Lesley for constantly supporting his ambitions. He says he owes many thanks to the Newfoundland paramedicine community as well, in particular at Eastern Health and 13910, for accepting him as one of their own.
ACP – Michael Turconi, internationally trained, St. John's, Newfoundland and Labrador
PCP – Kaden Arnason, CritiCare EMS, Winnipeg, Manitoba
ACP – Martin Chandler-Baum, Holland College, Charlottetown, Prince Edward Island
PCP – Nicolas Manders, Justice Institute of British Columbia, Victoria, British Columbia
ACP – Jenelle Paluk, Winnipeg Fire Paramedic Training Academy, Manitoba
PCP – Name not disclosed, College of North Atlantic, Newfoundland and Labrador
ACP – Seth Helm, Sask Polytechnic, Saskatchewan
PCP – Taralynn Stephens, Red River College, Manitoba