COPR Awards of Excellence
The Canadian Organization of Paramedic Regulators (COPR) is please to announce the recipients of the 2019 Award of Excellence. The award is presented to the candidates that received the highest score on the respective Advanced Care Paramedic (ACP) and Primary Care Paramedic (PCP) Entry to Practice Examinations.
British Columbia, Saskatchewan, Manitoba, Nova Scotia, Prince Edward Island and Newfoundland and Labrador have all adopted the COPR Entry to Practice Examination as their entry to practices examination. In 2019 there were 861 candidates (140 ACP and 721 PCP) from across these provinces that wrote the COPR Entry to Practice Examinations.
Nicolas Manders – Recipient of COPR's PCP Award of Excellence for 2019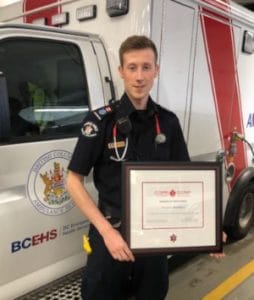 Nicolas Manders achieved COPR's top score on COPR's PCP Entry to Practice Examination with a scaled score of 785 out of a possible 800. He grew up in the small community of Quadra Island, BC, in a vibrant home with his parents and sister. Fluent in French and Spanish from a young age, he always did very well in academic subjects, although he admits he spent much of his time outside of school training on his bicycle. A decorated mountain biker, he also pursues trail running, backcountry skiing, mountaineering, and climbing. His volunteer experience includes trail building on Quadra, and ski patrol at Mount Cain, which has transformed into a role where he helps train new patrollers. He is an avid musician, with a distinct preference for the drums. For several years, he worked at the building supply store on Quadra Island, and spent time travelling and working in Australia as a climbing instructor, where he met his girlfriend.
Immediately after high school, Nic completed two years of engineering studies at the University of Victoria. Although interested in engineering, he felt that the program was not right for him, so returned to Quadra Island to take some time off. Late in that summer of 2014, the Unit Chief of BCAS Station 170 ran into Nic at a local event. She and Nic both remember the day well. She had known him as he was growing up to be keen, intelligent, and good natured. She approached Nic to see if he might be interested in working as a paramedic. This had never even occurred to him as a possibility! After thoroughly thinking it over for some 24 hours, he called her up to accept, and was hired as a driver within weeks. Before the end of the year, he was a licensed Emergency Medical Responder, and doing a significant amount of the ambulance shifts on Quadra Island. In 2017, Nic returned from a trip to Australia and decided to make paramedicine a career.
Nic attended the full time Primary Care Paramedic program at the Justice Institute of BC in Victoria during the winter and spring of 2018-2019. He enjoyed his time at JIBC Victoria, and credits much of his success to the teaching team there, as well as his classmates, who sparked so many great conversations.
Nic enjoys the incredible variety and unpredictability of ambulance calls. He values the autonomy of the job, and the freedom to create treatment plans. The problem- solving aspect suits him well also – he likens the body to a machine and compares the process of finding solutions with the creativity and knowledge required for engineering. Well-liked by his colleagues and community, his down to earth personality and listening skills make for an excellent bedside manner and put patients at ease. His colleagues say he is sharp witted, outgoing, and confident. He is known as a nice guy and a good friend, who radiates intelligence and is always ready to lend a hand. Rain or shine, he is outside enjoying life to the fullest, helping others do the same. And he is always got a pun or a "dad joke" to brighten your day!
Nic will soon begin a full-time position with BCEHS in Vancouver. He looks forward to starting a life with his girlfriend in the city and embracing the challenges that come with the new job and urban life. He has started working toward his health sciences diploma and plans to study to be an Advanced Care Paramedic. Nic is grateful to his family, girlfriend, and to the crew at Station 170 for their ongoing support. Although this achievement was a surprise for Nic, his colleagues say it is very well earned and deserved. It is surely a sign of his exciting path ahead!
Recipient of COPR's ACP Award of Excellence for 2019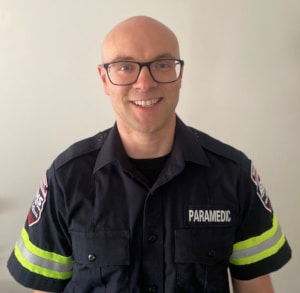 The recipient of the 2019 ACP Award of Excellence is Martin Chandler-Baum. Martin achieved 675 out of a potential scaled score of 800. He is originally from Ontario and grew up in Nova Scotia. Martin found the career of paramedicine through a friend. He undertook his Primary Care Paramedic training Medavie Health Ed in Dartmouth, Nova Scotia, and his Advanced Care Paramedic training from the distance program at Holland College in Charlottetown, PEI. Martin has been a paramedic for over five years.
Martin wants to thank his amazing partner in life, Ariel and his mother and stepfather, Helen and John, for their love and support while completing the ACP program. Martin says they made is so much easier and gave him the motivation and strength to push through!
ACP – Martin Chandler-Baum, Holland College, Charlottetown, Prince Edward Island
PCP – Nicolas Manders, Justice Institute of British Columbia, Victoria, British Columbia
ACP – Jenelle Paluk, Winnipeg Fire Paramedic Training Academy, Manitoba
PCP – Name not disclosed, College of North Atlantic, Newfoundland and Labrador
ACP – Seth Helm, Sask Polytechnic, Saskatchewan
PCP – Taralynn Stephens, Red River College, Manitoba